Slap Susec (officially written as slap Sušec) is a small waterfall in the canyon Sušec often used for canyoning. The (unofficial named) waterfall is located north of Srpenica, Slovenia.
On the road from Bovec to Kobarid you cross a stone bridge, just before Srpenica, where after a small gravel road goed right. After 200 meter there is a parking. This is the beginning of the gorge Sušec.
When you walk towards the river you already see a low volume waterfall of appr 12 meter. The gorge is a range of small waterfalls. July 2017 we did a canyoning tour through the gorge with  Bovec Rafting Team (recommended).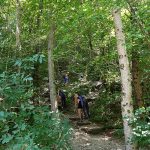 From the parking you can walk up but you don't always see the river and all waterfalls. According to my guide there is a bigger waterfall far upstream but difficult to reach.
Best time to visit slap Susec is in springtime when the river has quit a lot volume.
There are several beautiful waterfalls nearby but one close to is Slap Boka. When coming from Bovec you will see this big karstic waterfall on the right side of the road.
Another nice waterfall is Slap Virje in Plužna (Bovec). But the most beautiful waterfall is located a little to the south at Kobarid, the gorgeous Slap Kozjak. This is really a must to visit.