Wasserfall Rosenlauischlucht
(Rosenlaui Gletcherschlucht)
The Rosenlauischlucht is a glacier gorge with one big waterfall at the beginning and several drops and waterfalls further upstream in the narrow gorge. The Rosenlauischlucht wasserfall is located near Meiringen in the region Berner Oberland, Switzerland.
From main road 6 take the exit (east of Meiringen) to the Reichenbachfall and Rosenlauischlucht, the road is called Scheideggstrasse. Follow the road for 9 kilometer until you reach the parking in front of the entrance of the Rosenlauischlucht (gps 46.678857, 8.155503). I forgot to mention that a few kilometers before the parking there is a pay booth where you have to buy a parking ticket. After 11am the ticket is cheaper (???). There was a line with cars waiting until it was 11am.
After you parked your car you have to pay admission for the Rosenlauischlucht. You have to enter to get a clear view on the big waterfall. The gorge is open for public from May to Oktober, at daytime.
After the entrance it is a very short walk until you see the single drop waterfall with a 30 meter height, called the Rosenlauischlucht wasserfall. It is difficult to determine the total descent in the gorge but this must be around 150 meter.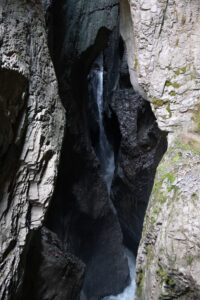 July 2021 I visited the the Rosenlauischlucht wasserfall for the first time and I was impressed. The river Rosenlauibach squeezes its way through the gorge with great power. The sound the water creates is enormous. I counted 5 serious drops that you can call waterfalls, with heights from 4 to 20 meter.
The path through the gorge is a well constructed and secured gradual ascent. You pass along waterfalls, natural whirlpools and fantastically shaped rocks. All the way up, you will feel the awesome and breathtaking power of the glacial water running through the gorge: A very pure natural experience.
At the end of the gorge a forest trail leads you down back to the entry point. The Glacier Gorge Rosenlaui is part of the Unesco World Heritage Jungfrau-Aletsch.
I think my visit to the Rosenlauischlucht wasserfall was the highlight of my 2021 visit of Switzerland. I know it is difficult to choose a favorite spot, because Switzerland is so breathtaking, but the gorge was so overwhelming, so impressive, a must to visit.
There are several other great waterfall in the Meiringen area. In Meiringen you probably saw signs for the famous Reichenbachfall (Sherlock Holmes!), which is a visit certainly worthwhile.