The Trusetaler wasserfall is the highest and most impressive waterfall in the region of Thüringen, Germany. The waterfall is located north of the village Trusetal along road L1024.
When driving on the Brotteroder strasse (road L1024) the waterfall is hard to miss. In summertime the waterfall and the Zwergen Park Trusetal is quite popular by tourist and the parking can be busy.
You have to park in a parking area, with a parking fee(gps 50.795879, 10.422168). The entrance to the waterfall is next to the parking and in 2018 you had to pay € 2 for the entrance (children under 10 year, no admission). In the high season there are several commercial stalls where you can buy touristic stuff. Fortunately the Trusetaler waserfall is nearby.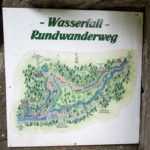 After enjoying this beautiful waterfall from the bottom you can go up (228 steps) at the left side of the waterfall and make a short (or longer roundtrip). On top of the waterfall you have a good view on the valley and here you see that the Trusetaler wasserfall is manmade. The short walk takes approximately 10-15 minutes.
Although the Trusetaler wasserfall is a manmade waterfall, it is still one of the better waterfalls in Germany. In 1865 workers redirected part of the river Truse and so made a unnatural drop of 58 meter. At the top you see the canal diverting the water to the top of the waterfall where is drops nicely on the big rocks.
The flow of the Trusetaler wasserfall is quite consistent and only at the end of the summer the flow can be somewhat reduced.