Summer 2023:
"UK from south to north"
It is truly incomprehensible that until this year (2023) I had never been to the UK to visit waterfalls. It's relatively close (if I take the boat) and I speak the language well. I always thought waterfalls in the UK were not very impressive and it is not really a top tourist destination (except for English people themselves). I'm glad we decided to explore the UK from South to North anyway, right across England, Wales and Scotland.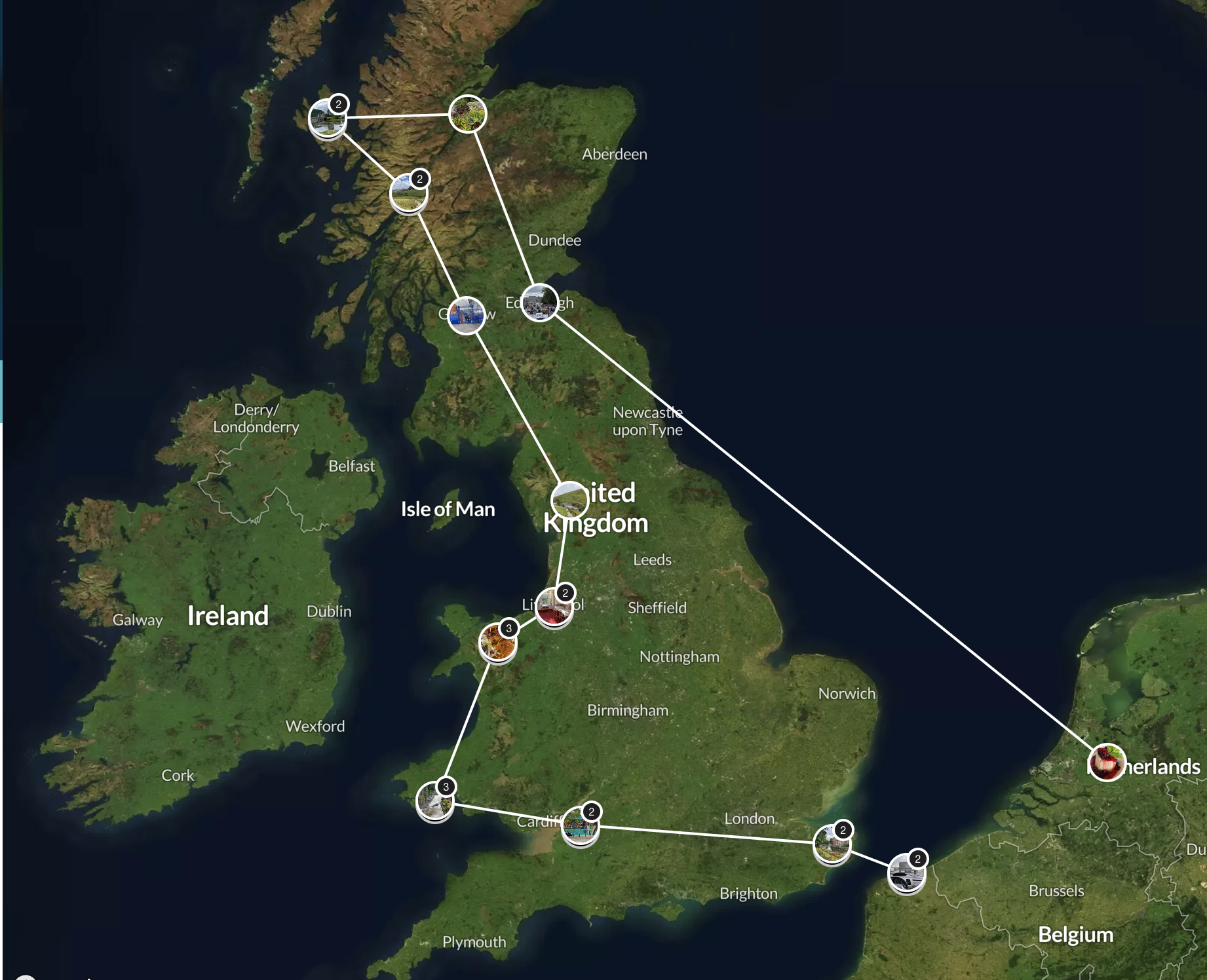 Day 1-4: Canterbury - Bristol (England)
July 2023 we finally went to the UK. The holiday was going to be a combination of the best and most beautiful waterfalls, cities, especially street art, and enjoying the local culture. In 3.5 weeks, we wanted to see as much of the best as possible.
The trip starts with a crossing from Dunkirk to Dover to spend the night in Canterbury, known from the famous cathedral. But Canterbury is more: cosy, photogenic and big enough to see the best in an afternoon. The next two days still no waterfalls, but lots of street art in Bristol. A fun city with lots of shopping, nightlife and the best street art in the country.
Day 4-7: Tenby (Wales)
After Bristol, we travel to Tenby to enjoy the beach, but enough time along the way to visit some waterfalls: Aberdulais falls, Melincourt falls, a walk to the Ladyfalls at Pontneddfechan and the surprising Henrhyd falls.
What surprised me most was that all the waterfalls were so extremely powerful. I had never thought that beforehand but it had rained the weeks before.....
I was getting the hang of it and decided to go back to Pontneddfechan, on my own, to visit four more waterfalls with four beautiful names. A 3.5-hour hike, but oh so beautiful: Sgwd Clun-Gwyn, Sgwd Yr Eira, Sgwd y Pannwr and Sgwd Isaf Clun-Gwyn. All so beautiful and so powerful, one of the best and most beautiful walks I have ever done.
Visited Waterfalls
Day 7-10: Betwys-y-Coed (Wales)
After Tenby, we will travel north, right across Wales, to spend 3 days in Betwys-y-Coed. Of course, we planned the trip so that we can visit two waterfalls: Devil's Bridge falls and the Dolgoch waterfall. Certainly the Devil's Bridge falls are worth visiting (even if you have to pay admission). A beautiful walk leads you around the falls.
Betwys-y-Coed still turns out to be my favorite place after 3.5 weeks and I did fall a little in love with north Wales. The people are friendly, the scenery is wonderful, there is a lot to do, a lot to see and there are lovely villages. I could easily have stayed another week there.
We also visited many waterfalls again: Swallow falls, Cyfyng falls, Rhaedr Ogwen, Aber falls, Fairy falls, Llanberis falls, Conwy falls and Pistyll Rhaeadr. All waterfalls also have Welsh names too, but then this post will get very long.
Also over here, all the waterfalls were very impressive and powerful, but the Aber falls really hit the mark. As far as I am concerned, this was the absolute number 1 in Wales, an absolute must-see. But Pistyll Rhaeadr is also an absolute hit and one of the top 10 best waterfalls in the UK.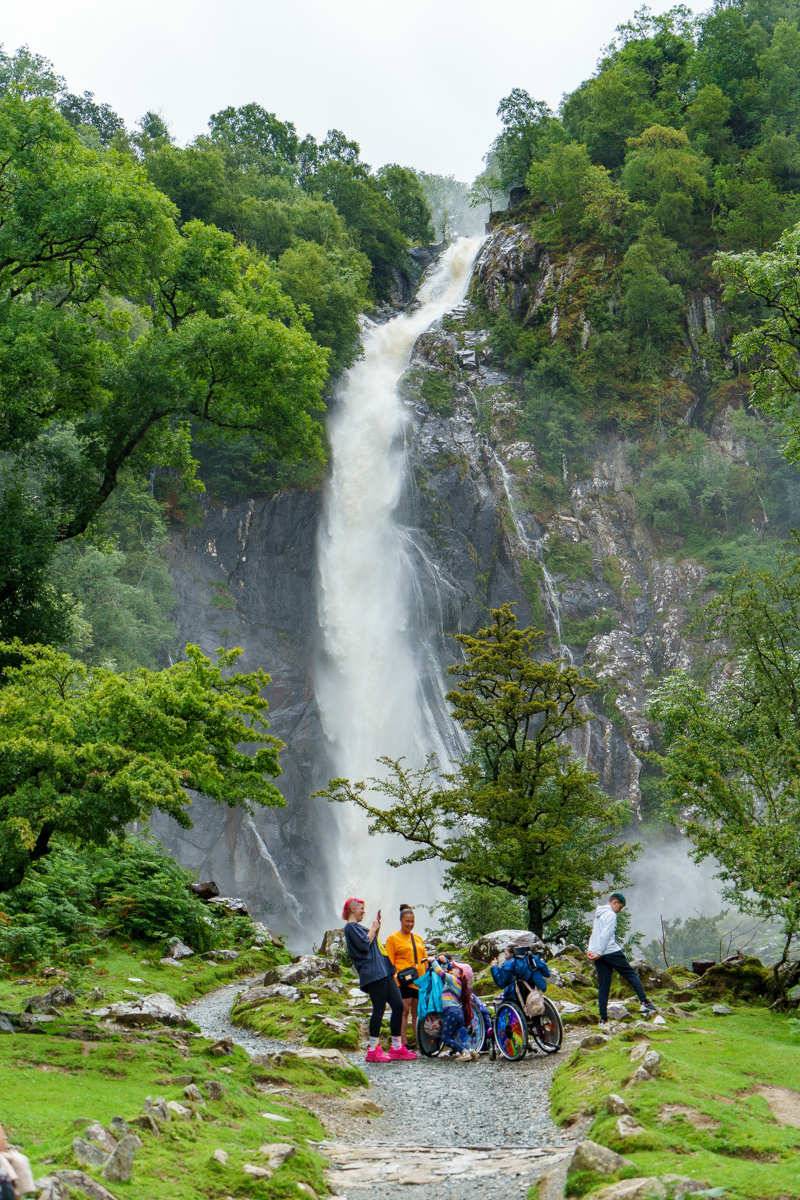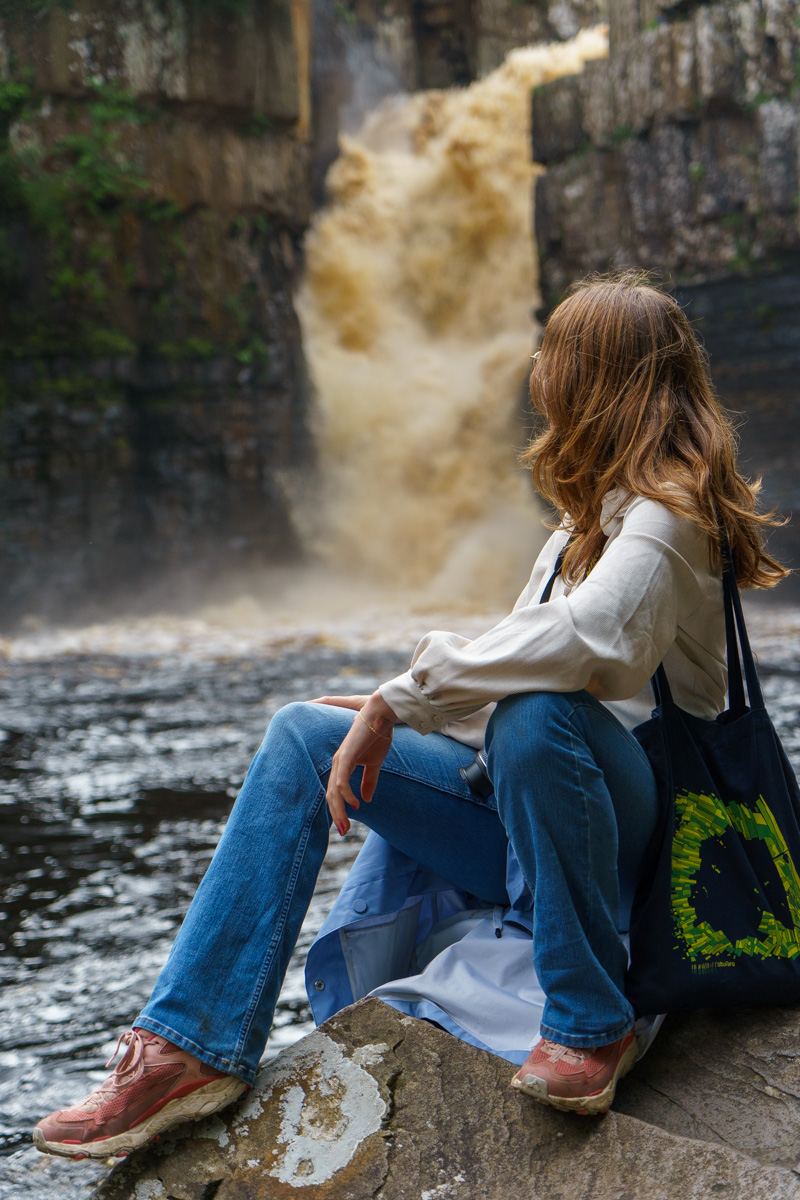 Day 10-15 Liverpool-Kendal (Engeland)
Unfortunately, all beauty comes to an end and we travel on to Liverpool. A great city with wonderful museums and lots of street art. Of course, we also visit some Beatles highlights.
From Liverpool, the four of us travel on (my daughter and friend joined us). For the next few days, we stay in a apartment in Kendal. From there, we can go to the Yorkshire Dales and to the Lake District. On the way to Kendal, we visit the region's top tourist attraction, the Ingleton waterfall trail. Wow, now I know why this is a tourist attraction. A three-hour hike takes you past four mighty waterfalls. Unfortunately, the weather was not too good and at Thornton Force the weather was terrible. However, we did see another deer pass by at Beezley falls.
Despite the moderate weather, the Ingleton falls made a big impression on me and, as far as I am concerned, are among the most beautiful waterfalls in England! A must visit.
The next day, I head out with my daughter to further explore the Yorkshire Dales. The distances are a bit disappointing and we need quite a bit of time to cover short distances. Still, it is a beautiful area and we visit some stunning waterfalls: Hardraw Force, Aysgarth Falls and High Force. All very impressive and powerful waterfalls. Did you know that the word Force is derived from the Norwegian word foss, meaning waterfall.
The following day, we go to the Lake district which I like a bit better in terms of nature. Although I find the waterfalls in the Yorshire Dales much more beautiful. I have to make some concessions and we only visit 1 place with a waterfall, Aira Force. For the rest, we visit castles, enjoy nature, lakes and quaint towns.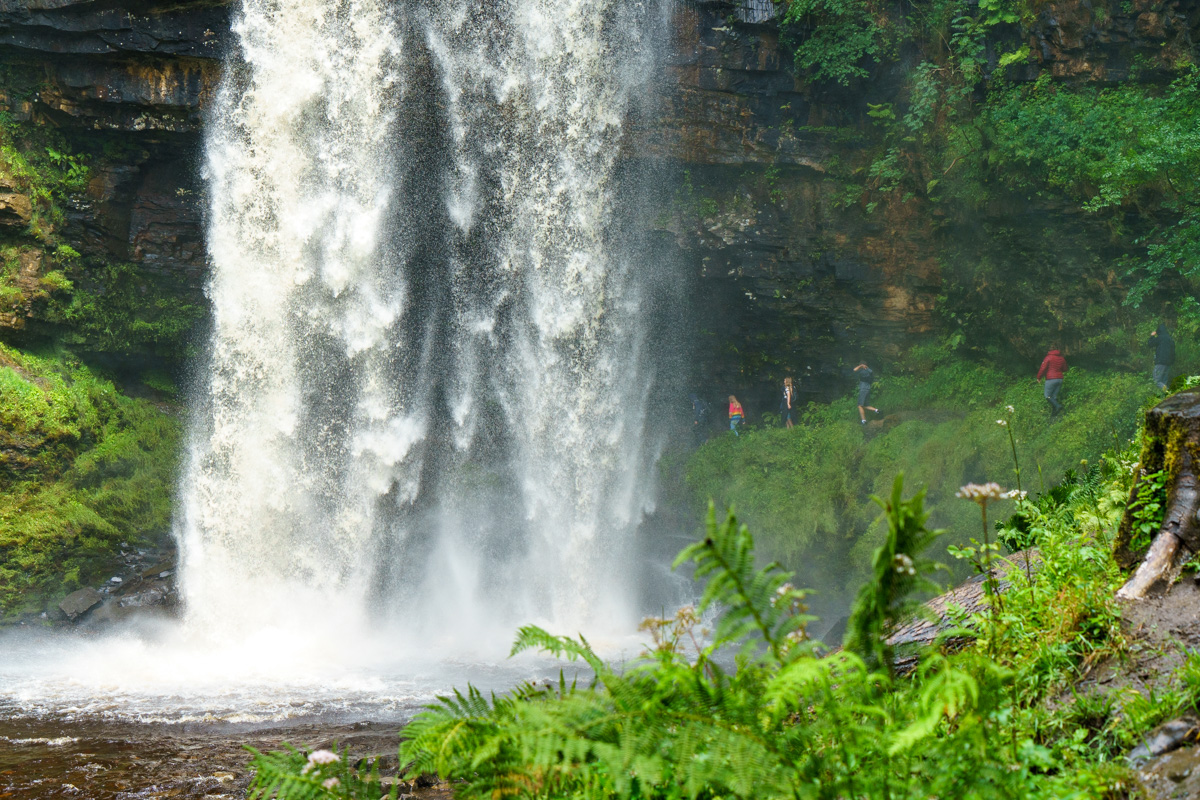 Day 15-19 Glasgow - Fort William (Scotland)
After Kendal, we head into Scotland. The first stop is Glasgow, where the World Cup cycling also happens to be just starting. We particularly enjoy the street art and only stay there for one night. Soon we move on to Fort William where we stay a little longer.
The tour starts at one of the most photogenic spots of this holiday (a must visit), The Devil's Pulpit. Again, a wow factor. Beautiful colors, gorgeous light, a lovely little gorge with a small waterfall. We spend quite a bit of time taking photos anyway. The trip is beautiful and we enjoy the scenery. Next stop is the Falls of Falloch, another photogenic waterfall where the real diehards go for a swim.
Next highlight will be the Glencoe Valley with the Glencoe waterfall. A beautiful valley but it is said to be the most beautiful valley in the UK. It is indeed a beautiful valley but I have seen prettier roads. I think my expectations were too high....
From Fort William, we mostly explored the surrounding area but our visit to Nevis Valley was really the highlight. A short walk takes you through all the natural beauty to the Steall waterfall. One of the highest waterfalls in the region. This waterfall is perhaps less powerful than those in Wales and England but certainly very beautiful.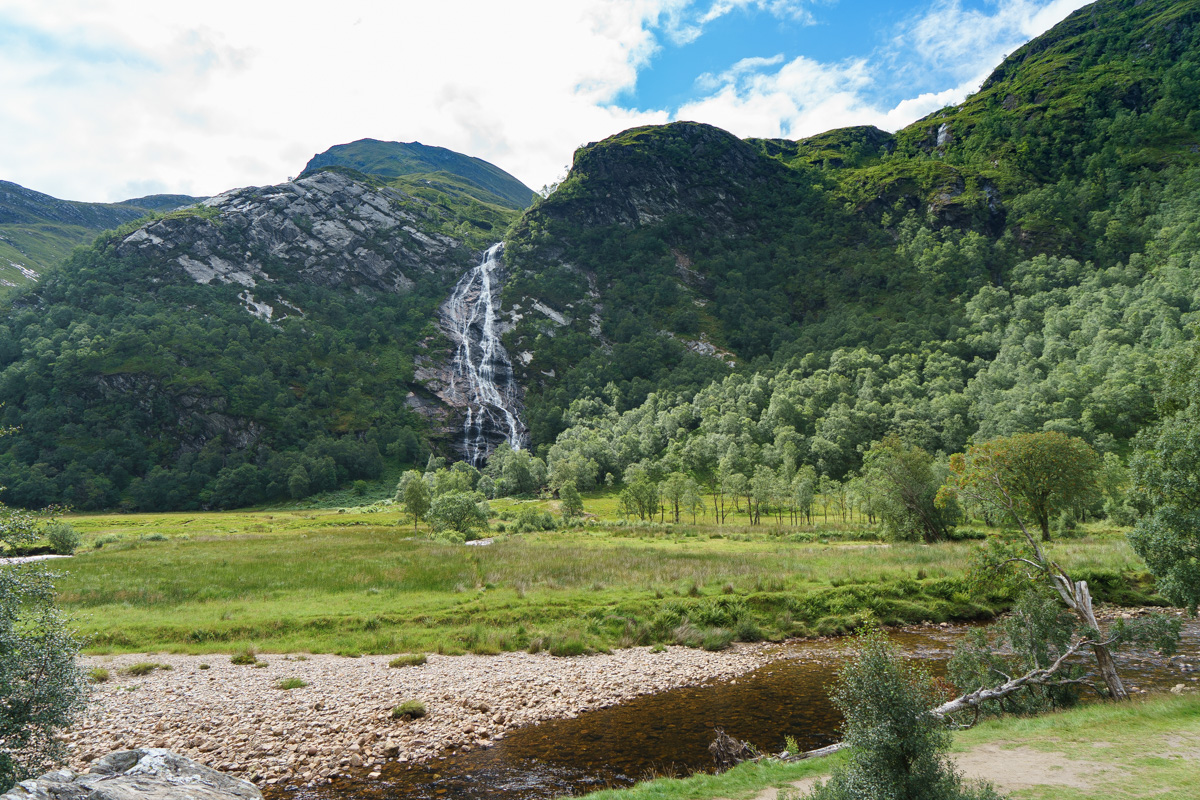 Day 19-21 Isle of Skye - Inverness (Scotland)
Our journey continues to the Isle of Skye, widely regarded as one of the highlights of the UK and I have to agree with everyone. The Isle of Skye is of unparalleled beauty. We visit several waterfalls including the Lealt and Stealt falls. Both tourist attractions and now I know why. But the Stealt fall was a little disappointing, in terms of volume. The views are great and it is a nice place to be.
The highlight of the Isle of Skye is a series of small waterfalls in unprecedentedly beautiful surroundings, the Fairy Pools. The road to them is actually an experience in itself. A very narrow road (1 car wide) that thousands of cars and buses have to cross. All likely to go wrong and you may end up in a traffic jam of cars not knowing what to do....
The last leg of our trip went to Inverness (via Loch Ness and the falls of Foyer), on to Edinburg (a very nice city where there was just a festival the Fringe) and finally back by boat via Newcastle.
This 3.5 weeks was an experience in itself. Sometimes with reasonable weather, sometimes with rain but mostly a holiday that cost a lot in retrospect.
Finally, a few comments. The one thing I noticed is that these days (almost everywhere) you have to pay to park at a waterfall. Often, admission is also charged for entry. Usually not too much money but when you add it all up. It's especially irritating because I think nature should be freely accessible and free for everyone.
I think the UK can be a wonderful holiday country and I was surprised that we actually encountered very few foreign tourists. In Scotland, we did encounter more tourists.
The UK is a beautiful holiday country and normally the weather in summer is pretty good too. We were unlucky (or maybe lucky) that there were also some rainy days.